Girl Scouts Can Earn Their STEM Badges at CodeCubbies Online or In-Person
Girl Scouts can now earn any of the new technology badges such as Coding For Good, Cybersecurity, or Computer Expert at CodeCubbies.
The new STEM related badges from the Girl Scouts provide digital skills and foster leadership qualities.
Participants of the Girl Scouts STEM workshops at CodeCubbies can earn their Coding for Good, Cybersecurity, and Think like a Programmer badges, available for all levels.
CodeCubbies empowers girls to be digital creators & coders!

Our team makes earning technology badges for Girls Scouts of America fun and exciting! Getting kids excited about coding is what we do … And we do it with heart ❤️!
Girls will earn their Technology badges by learning about the concept and logic of coding. We cover in detail how programming can empower girls in so many ways … whether they choose a future in programming or any other field!
At CodeCubbies, Girl Scouts earn their Coding for Good, Cybersecurity, Computer Expert, and Netiquette badges by completing plugged and unplugged activities with a focus on not just creating code, but also on key computational thinking skills like problem solving and critical thinking.
Girl Scouts Coding Badges Offered at CodeCubbies Include:
Daisy Girl Scouts STEM Badges
Junior Girl Scouts STEM Badges
Cadette Girl Scouts STEM Badges

Jennifer Brooks
This was a great program and my Girl Scouts really enjoyed it and it was run online. We live in a small town so it is hard to go somewhere they offer programs like this. They earned 2 badges in coding which I am not as knowledgeable on. So it really helped having someone who had a good program and the knowledge run it for me. Plus the instructor had a lot of extra little trivia about computers and coding that we all found very interesting. He had the girls engaged and active the whole time which in my opinion can be very hard. I will definitely use them again!
Request a Workshop for Your Troop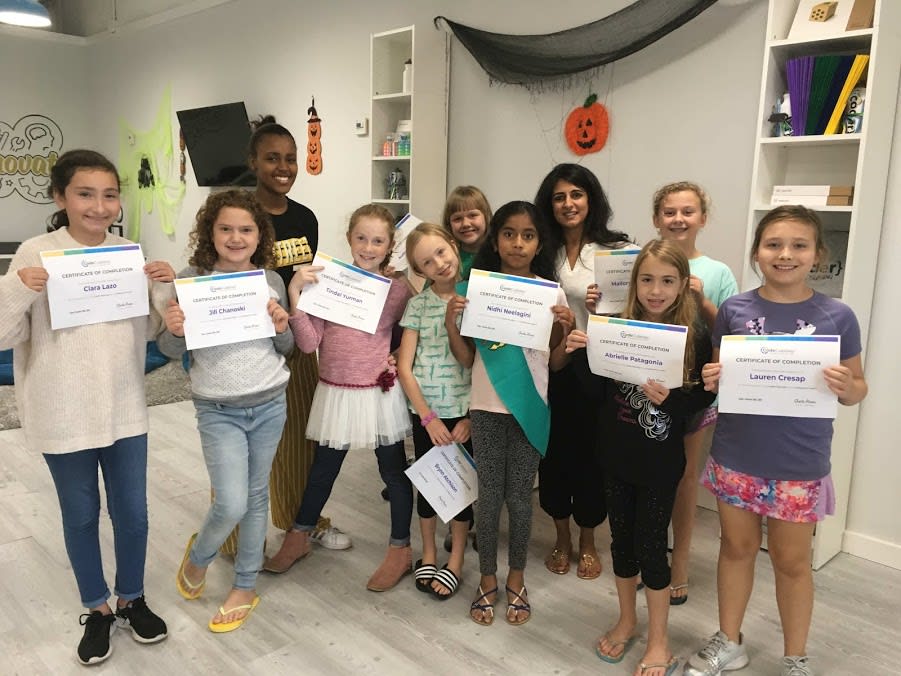 Workshop Location
Available as In-Person or Online
CodeCubbies – Coding Classes for Kids
1595 Peachtree Pkwy., Ste 124
Cumming
,
GA
Phone:
770-515-9340
Reviews for Girl Scout STEM Workshops at CodeCubbies
Amy Harper
Troop Leader
My Girl Scout troop had a blast Sunday! Thank you so much for an educational and fun afternoon!
Gallery - Girl Scout STEM Workshops